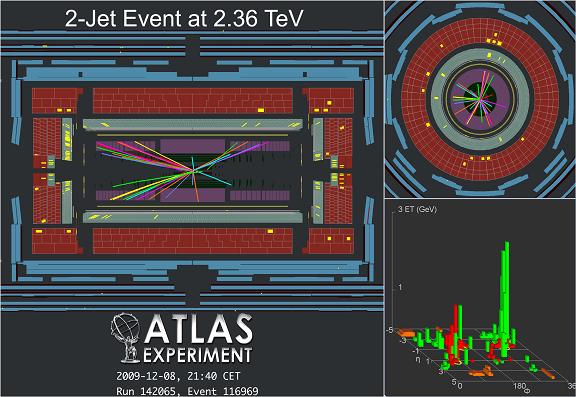 The CNN story title for an article about the mysterious spiral UFO seen in the sky over Norway on Wednesday December 8th, 2009 cast a certain amount of doubt whether they believe the much discussed object was created by a malfunctioning Russian rocket. Did Russian military spark Norway UFO frenzy? states the Russian Defense Ministry has confirmed the Russian Navy launched a Bulava ballistic missile on the same day, but has declined to make any connection with the lights seen over Norway. The Russians confirmed the missile was fired from the "Dmitry Donskoi" nuclear submarine, but would not comment on the submarine's location at the time of launch.
No mention of a failed Chinese reconnaissance satellite that was also launched that day.
Also no mention that it was the same day the Large Hadron Collider, earth's largest and most powerful particle collider, smashed the collision record Wednesday night as humanity's first 2.36 Tera-electron-volt collisions were recorded. The LHC has already been mentioned in paranormal and sci-fi circles, when it was suggested that earlier issues with the LHC could be caused by time traveling saboteurs or that 'Something may come through' a dimensional doors created by the unnatural forces in work in the LHC.
Could the Norway Spiral UFO have been caused by the LHC?
The LHC's 2.36 Tera-electron-volt collisions were at 21:40 Swiss, where the mystery spiral UFO was reported at 8 AM local Norway time, but let us note that the LHC has the potential to break the constraints of time and space as we understand them. Several hours shouldn't be a concern when we are discussing a black hole, white hole or wormhole that could probably travel through space and time in ways our linear model of physics could not describe.
And concerning the missile/rocket cover up story? Interesting that its two countries that are secretive, yet relatively benign towards to the West that are possible sources of the rocket. I am sure it would only take one well placed phone call to get the Russian Defense Ministry to claim it was their rocket that caused the UFO.