Reports of more sightings of creepy clowns in South Carolina.
The details have inconsistent, except the fact that unidentified individuals dressed as clowns are haunting Greenville and Spartanburg counties. Some reports have the clowns with masks, others painted faces.
On September 1st, a woman at the Canaan Pointe Apartments in Spartanburg saw a person dressed as a clown in her backyard. She was able to get a picture before the clown disapeared into the woods, but the photo is too dark to make anything out.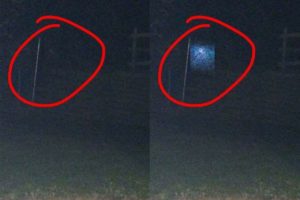 Canaan Point Apartments are 35 miles from the Fleetwood Manor sighting which involved up to 30 children seeing a clown with a green laser pointer.
On Friday September 2nd, police were called to investigate a clown sighting on Rutherford Road, about 8 miles north of the Fleetwood Manor Apartments.
An additional report from the 31st of August has a clown creeping around near the Park Haywood Apartments on Congaree Road, located between Rutherford Road and the Fleetwood Manor Apartments.
"the suspicious person did not make any action, just stood and stared."
The clown was described as a male, between ages 35 and 45, 5 feet 10 inches tall and 200 pounds.Witness describes the suspicious person as wearing a white swimmer's cap with red hair coming out of the sides, white face paint with a red painted line around his mouth.
The clown was wearing a gray long-sleeve shirt, white gloves, white balloon pants and black boots. The smell of 'house paint' was also reported, an interesting detail.