Last summer, the Montauk Monster was all the rage in cryptozoology until Tom Biscardi's Bigfoot Press Conference got us all more excited about Bigfoot DNA than a weird ass creature washed up on the beach up towards the Hamptons.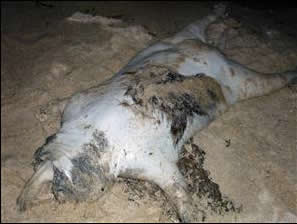 Photos and reports of a new Montauk Monster have surfaced, said to be from the shores of North Fork of Long Island from early May of this year.
Nicky Papers of www.montauk-monster.com was called to the scene and claims to have the body in "cooler full of ice", I guess for later testing, poking, and prodding.
"The beast smelled like a mix of low-tide and rotten garbage. It really smelled horrific. I couldn't help but take numerous pictures of it and video clips."
As suggested, but never proved with the body from last summer, there may be a link between the creature and the nearby Plum Island Animal Disease Center.
And…. VIDEO