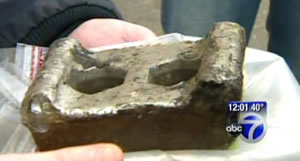 To go along with your Texas fireball and debris, we now have an unidentified piece of warm metal the size of a brick that came crashing through the roof of a New Jersey business this morning, not far from a worker.
The hunk of metal made a two-foot square hole in the roof of Al Smith Moving at 33 Pacific Avenue, at around 9 a.m.

View Larger Map
The Federal Aviation Administration (FFA) sent out a unit from nearby Teterboro Airport and determined the object was not from a plane and is unknown in origin. FAA spokeswoman Arlene Salac says investigators examined the metal and determined it is made of cast iron, which is not used in airplanes. She says it's up to local authorities to determine where the object came from.