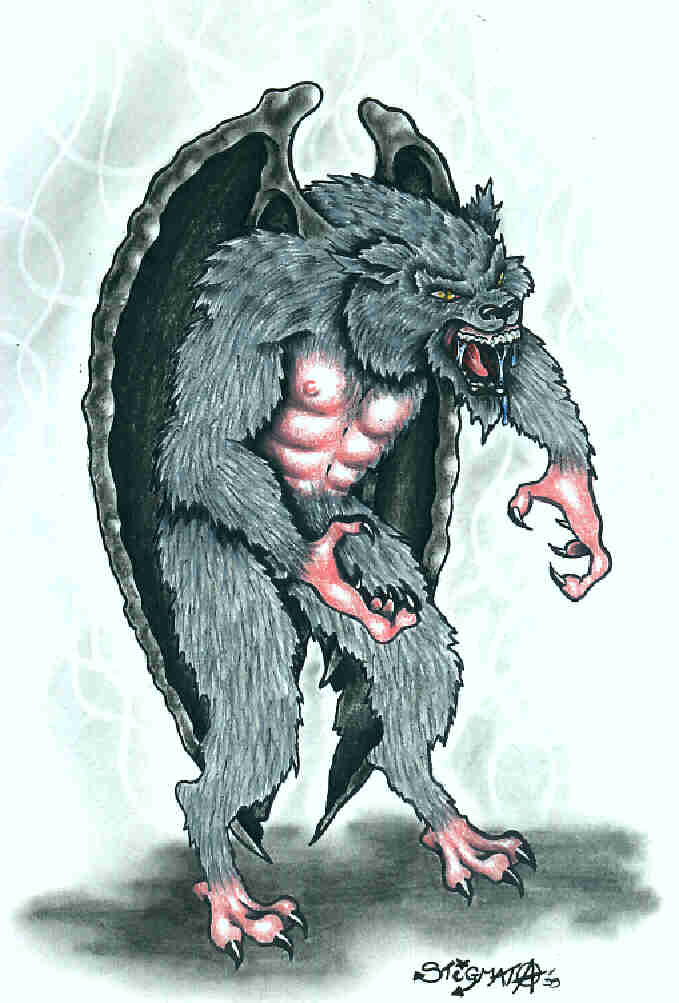 The earliest reports of the cryptozoological creature batsquatch surfaced in the early 1980s and are associated with the eruption of Mt. St. Helens in Western Washington State. These early sightings are light on details. The creature was described as having a bats head, red eyes, wings of a pterodactyl, and a purplish color. The bat like head, red eyes, and wings are very much like Mothman, made famous from John Keel's reports from the Point Pleasant areas of West Virginia. Mt. St. Helens has a history of weird creatures, one of the most famous being the 1924 Fred Beck Sasquatch story with sightings continuing today.
It wasn't until late 90's that the Batsquatch story really got odd. The sequence of events is not very clear. At some point the website www.batsquatch.com, taking a comic, mocking approach to the batsquatch phenomenon, posted a 'news clip' and other information, that is repeated in multiple places on the internet and thought to be factual. I have reasons to believe the reports and information on www.batsquatch.com is a total hoax and has polluted the internet with phoney and damaging data on the batsquatch.
Yelmidians take cover under shadow of suspicious creature. Mountain News

Fear continues to dominate the men, woman, and children of this town as a dark shadow looms overhead. Suspicions persevere and rumors spread as far too many sightings of "a winged bat-like creature" go unexplained. It started as childish rumors after the May 1980 eruption of Mount Saint Helens and has spread to community horror as the truth Batsquatch over Mt Rainier continues to emerge. While preparing for a climb in early 1994, local mountaineer and liquor store owner Butch Whittaker managed to take several pictures of the beast during a rare midday flight (see left). Butch Whittaker, expert in paranormal activity and unexplained phenomena, considers himself lucky to experience this encounter but adds, "I'm not surprised. These things happen to me all the time." Although government officials deny the existence of any photographic evidence, our staff experts closely scrutinized all photos and found no reason to hold this position.

To date four goats, five chickens, two cows, and our prized pig are unaccounted for. No humans are reported missing but this is no measure of the never-ending toll placed on this community's pride and mental well-being. All Pioneer Day festivities were canceled last week and with the recent loss of Priscilla Pig, scheduled dancing this Saturday presumably will fall prey to this monstrous being as well. Neither Police Chief Durhamm nor our Mayor will estimate potential long term effects of continued attacks but both were obviously saddened by the loss of Priscilla.

Editor's note. If you have seen this creature, report to the nearest Unexplained Flying Kinetically Retaliatory Animal office immediately
So now Batsquatch has moved 60 miles to the north to Mount Rainier, specifically to the town of Yelm, WA in Thurston County. Reference to "Police Chief Durhamm" is probably referring to a former Chief Glenn Dunnam and "Pioneer Day festivities" is not the annual Yelm celebration, which is actually called Prairie Days. Also, the local Yelm newspaper is called the Nisqually Valley News, not the Mountain News. There is no other archives of this article and it is my belief it is completely fictional. Also posted on the www.batsquatch.com site is a report claimed to have been sent February 3, 1998. The fake news clip pretty much totally discredits this report in my view.
The fake newsclip and sighting also adds an extra element to the batsquatch, that of a connection to animal abductions and/or mutilations. The creator of www.batsquatch.com seems to be combining stories here, possible pulling from mid 1980s stories of UFO related animal mutilation in the Yelm area.
I have attempted to contact the website creator by email and have not gotten a response back yet.
Yet the Batsquatch saga doesn't end there. An early April 2009 article by Paul Dale Roberts on www.unexplained-mysteries.com describes a phone call he got from someone who had seen a creature fitting batsquatch's description while hiking around Mt. Shasta. Mt. Shasta is in the same mountain range, the Cascades, but a considerable distance to the south, almost 550 miles from Mt. Rainier. Mt. Shasta is also known for its weirdness, being a UFO hotspot and spiritual center.
Three mountains in the Cascades, spanning over 500 miles, all with other weird reported phenomenons, with ties to batsquatch.