A recent creepy clown report from Zillah Washington appears to be a fake, as it reuses a photo used in other creepy clown reports, specifically one from West Virginia.
Fidel A Valencia posted this photo and this message on Sept 23 to his FaceBook account.
I saw a clown by the bridge their repairing in Zillah WA right by the Yakima river, be aware and don't forget to stay away from these woods and don't walk by yourself!!!😱 This is starting to get out of hand and isn't very funny!!! Share this post so everyone and family and friends could stay safe and sound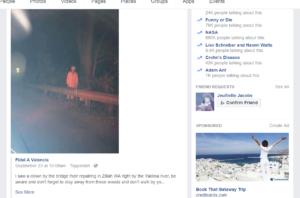 The post uses the same photo found in a previous West Virginia report.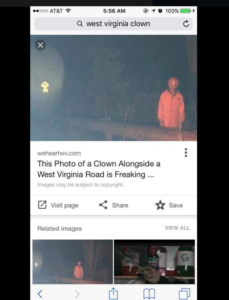 Zillah is a small town in Yakima County, Washington, with a population of around 3000. Tourist attractions include the Teapot Dome Service Station, the fortuitously named Church of God Zillah and the local wineries.