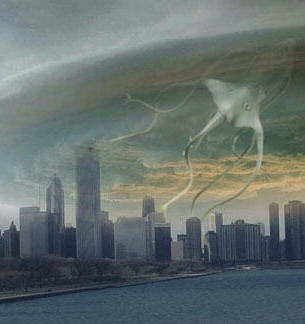 Blogger Naveed makes an excellent connection between UFOs described as jellyfish-like and a seldom mentioned creature from cryptozoology dubbed Atmospheric Beasts.
Atmospheric Beasts are said to fragile and lightweight creatures floating around in the upper atmosphere, maybe from another dimension, maybe native to earth, maybe they have traveled here from other planets in gas bubbles and they can handle trips through space. Maybe they are dropped off here by other extraterrestrials to perform a function like clean our atmosphere or telepathically report back information.
Uninvited Visitors (a Biologist Looks at U.f.o.'s ) by Ivan T. Sanderson is said to speculate and expand on many of these ideas. I am currently looking for a copy or more information on these views.
The possibility of the existence of Atmospheric Beasts add a wonderful layer to UFO sightings, as there have reports of flying jellyfish like UFOs, as recent as the May 9th sighting over Lichfield, Staffordshire UK and a classic 1977 report from Petrosavodsk, Russian which had multiple witnesses and a photo that was published in Pravda. Also lumped in to this category of UFO are the sky snake/eel/whales/dragon descriptions of unknown objects in our skies. Like the 1891 Crawfordsville monster, these are sometimes said to 'flap' and slither through the sky, like so much like jellyfish.
Could these be two different classifications of creatures?
Atmospheric beasts have been linked yet to another odd occurrence and that is when weird unexplained globs and blobs of ick fall from they sky. Could some reports of star jelly or pwdre sêr falling to the ground be the bodies of these creatures?