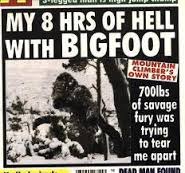 A site claiming to be 'A watchdog for the exploitation of bigfoot and sasquatch in film, tv, books, internet and other media', Sasquatchploitation.com features blog posts and snippets on various Bigfoot topics.
The Movies & Films section is called the BMDB or Bigfoot Movie Data Base and with the massive backlog of sasquatchploitation, it is expected to swell with content.
Other sections include Bigfoot on TV Classics & Sasquatch Stuff.