Whales In Space tipster Mike Meredith dropped us a comment that a mystery piece of metal, similar to the one that fell in New Jersey on February 18th, fell through the roof of a house in Dallas Texas Tuesday night.
Police were called to investigate and still don't know what the metal is or where it came from. They say tests on the metal concluded it was not radioactive.
The six-pound piece of metal hit the house of Rosalina Perez punched a hole in the roof, into her daughter's second-story bedroom and through the floor, stopping when it hit the refrigerator on the first floor.
The object looks amazingly similar to last weeks New Jersey object, which was dismissed as being spat out by a wood chipper or something stupid like that.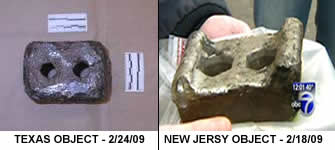 Could these be related to the February 15th Texas Fireball, which we were told wasn't debris from the previously crashed satellites?
While the Texas Fireball was caught on tape and got the most media coverage, there were also fireballs reported from around the world in that same 72 hour period.